In 1881, two brothers heard a loud whistling noise coming from a hole in the ground. Curious about the whistle, Jesse and Tom Bingham began to further investigate. As Tom got closer to the opening, the wind from deep below blew his hat off his head. The next time the brothers returned to the strange hole, the wind switched directions and sucked the hat into the cave. That hole is the only natural entrance to Wind Cave.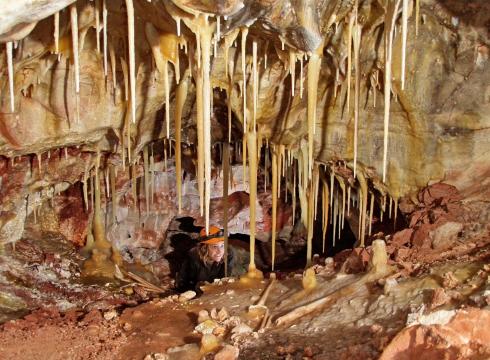 While the brothers first discovered Wind Cave, they weren't the first to enter its underground maze. The first spelunker to enter Wind Cave was a miner by the name of Charlie Crary. He used a small lantern and a ball of twine to mark his path. In the months and years to come, other brave souls ventured deep into the passageways. Among them was Alvin McDonald who spent a good amount of his time in the Black Hills exploring and mapping the intricate detailing and walkways of the cave. Alvin kept a detailed diary of his time below the surface and even noted that he had given up finding the end of the cave.
News of the cave spread and soon visitors were coming to the area to experience the beauty below the Black Hills. Guided tours were offered and the Wonderful Wind Cave Improvement Company widened passageways and constructed wooden stair cases. Popularity of the cave grew, and in 1903, President Teddy Roosevelt signed legislation making Wind Cave our seventh National Park.
Visiting Wind Cave National Park
Wind Cave National Park is one of the most complex and longest caves in the world. With nearly 130 miles of discovered passageways, Wind Cave is the third longest cave in the United States and the fourth longest cave in the world. Researchers believe parts of Wind Cave are over 300 million years old and its intricate boxwork, or honeycomb-like features, are rare and only found in a few other caves. The wind in Wind Cave changes direction based on the difference in atmospheric pressure between the cave and the surface.
Above the surface of Wind Cave is nearly 30,000 acres of mixed-grass prairies, pine forests and wildlife. Bison, elk, antelope, prairie dogs and wild turkeys inhabit the park and can be easily viewed. Hiking trails wind through the prairies and are dotted with colorful wildflowers and rare birds. Limited camping is also available.
Wind Cave is open year-round with the exception of Thanksgiving, Christmas and New Year's Day. Several ranger-guided tours—from half-hour walking to four-hour crawling expeditions—are offered daily at varying times.
What You Need to Know About Visiting Wind Cave National Park:
Location: approx. 20 miles south of Custer
Hours/Seasonality: The park is open year-round with the exception of Thanksgiving, Christmas and New Year's day. Tours and times vary by season.
Fees/Reservations: Park entrance is free. Tour fees vary. Tickets are sold on a first come, first serve basis.
Website: www.nps.gov/wica